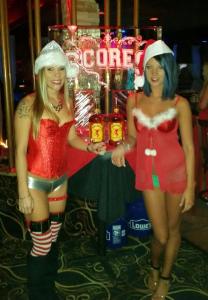 Happy Holidays! Scores_Tampa VIP Christmas Party sponsored by Fireball
The Scores Annual Christmas party is turned up! We are putting a seasonal twist on this year's party, it is sponsored by Fireball Whiskey and we have FREE Fireball shots for everyone!
The Fireball Whiskey Girls are here to assist you with the Fireball Ice Luge and several of the ScoresGirls have gathered at the Luge to get in on the action.
Enjoy the titillating dancers perform on stage, order food from our 5-star restaurant and order bottle service in our VIP suites. This is a Scores night to remember! Open 'til 3am.
Thank you Fireball, all our waitstaff and of course the Sexy ScoresGirls! Happy Holidays!